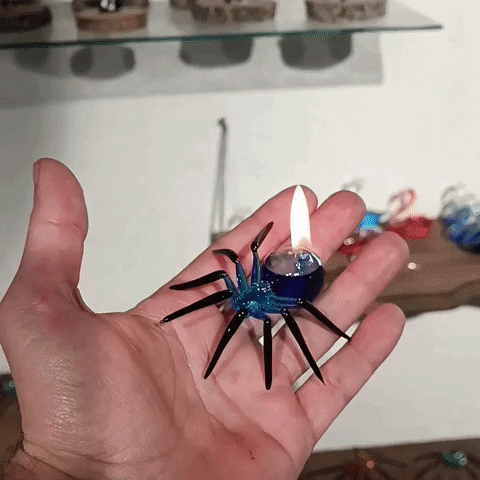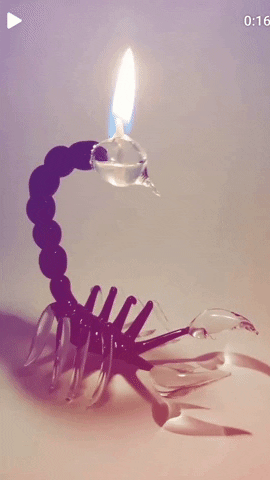 Package includes oil lamp wick and lamp oil.
Spider 1 can stay lit for about 2 hours. Spider 2 is 3 hours.The scorpion lamp can stay on for 20 minutes.
Spider 1 Sizes: 3.5 INCH LENGTH (9cm) 1.2 INCH HEIGHT (3cm) 3.5 INCH WIDTH (9cm)
Spider 2 Sizes: 5 INCH LENGTH (14cm) 1.2 INCH HEIGHT (3cm) 5 INCH WIDTH (14cm)
Scorpion Sizes: 4.43 INCH LENGTH (11cm) 4.43 INCH HEIGHT (11cm) 2.76 INCH WIDTH (7cm)

Have you seen our spider and scorpion oil lamps in different colors and shapes?

Whatever your answer is, take a look at our oil lamps with this amazing halloween decoration. You will want to buy them all.
«Trend Glasses» is a small glass workshop. Glasswork is our life. And we feel really great to be able to create different glass sculptures. Our artworks bring real pleasure to other people, improve their mood and can be found in almost every corner of the world!

Our main goal is to do everything possible and impossible to make our customers truly satisfied with their orders!
You can check our new ETSY store for our handmade glass works.
https://www.etsy.com/shop/TrendGlasses
LUXURY & TRENDY 5-POINT HAPPINESS CHECKLIST

Handmade Creative design and great gift!
Safe payments PayPal® and Credit Cards
30 Day Money Back Guarantee
Real humans on our support helpdesk! 
Tracking number for every order
Fast Worldwide Shipping
Est. Delivery Time: USA 5-10 Days. EU Countries, UK, CANADA, JAPAN, KOREA, AUSTRALIA, NEW ZEALAND:  7-14 Days
MENA Countries (ISRAEL, JORDAN, SAUDI ARABIA) : 12 -20 Days